Mesa ETP Foam Delivery System Benefits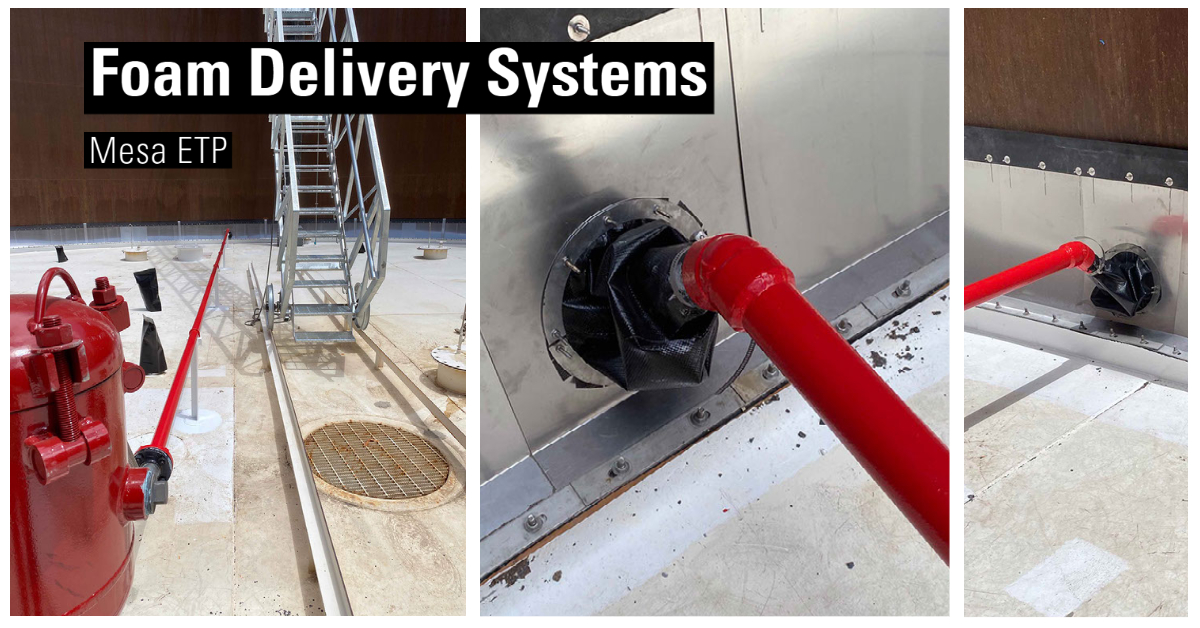 The Mesa ETP Foam Delivery System (FDS) is an efficient method used to extinguish rim fires on floating roof storage tanks located in refineries, pipelines and marketing tank terminals.  Here's five reasons your aboveground storage tank will be safer with a complete Mesa ETP Foam Delivery System (FDS) instead of other options.
1. With no fabric and the secondary shields sealed with bolts, you maintain the foam introduction from either above the floating roof via the top of tank chambers or via a hose delivery system such as the Mesa ETP Foam Delivery System (FDS) or even the competitor's design.
2. The attachment of hose delivery system piping, via a center delivery manifold, through the secondary seal plates is easier and more vapor-proof since you have no fabric to seal, as that can be a difficult seal using another mounting ring. Plus, this is more time-consuming.
3. With no fabric and secondary shields that are sealed with bolts, like our WG Seal, you can maintain less oxygen being introduced to the rim space should a rim space fire occur. The seal fabric will be burned out, feeding the fire, leaving unsealed gaps between each secondary shield plate.
4. Another advantage of our foam system is that our flow rates are better due to the smooth internal fluidway of the Mesa ETP RESIST-ALL-CLAD®. It offers the fastest flow rates and most efficient drainage from the floating roof since it does not include internal corrugation, which could trap sediment or cause flow restricting turbulence. The Mesa ETP RESIST-ALL-CLAD® smooth bore inside with no short angled elbows yields superior flow rates.
5. The foam systems that utilize foam dams are more passive in design than our delivery system.  Above seal applications require a foam dam and normally a longer discharge time. The Mesa ETP Foam Delivery System (FDS) applies the foam directly to the tank rim.
To learn more, call a product specialist at 1-866-368-7532 or fill out the form to talk to a tank expert.