Pontoon Oil Skimmer System
Mesa ETP oil skimmer systems are a proven solution for draining a light liquid product off the top of a heavier product in a cone or dome roof storage tank. The skimmer floats on the top product (ex. oil over water) to collect the lighter of two non-mixable liquids. The liquid is then drained through Mesa ETP's RESIST-ALL-CLAD® flexible pipe and out of the tank through the shell nozzle. RESIST-ALL-CLAD® features high aromatic resistance and a smooth internal fluidway for maximum liquid flow. Skimmer components are made of stainless steel to perform in the most corrosive product environments. The vortex breaker at the intake fitting ensures optimal flow as the fluid starts into the skimmer conduit. The intake is adjustable during installation. Oil skimmer systems are engineered using information from the customer supplied data sheet. For more information on flow rates, chemical resistance and production application of the pontoon skimmer systems contact us to talk to a tank expert.

Mesa ETP skimmer systems can also be adapted for use in internal floating roof tanks as well as external floating roof tanks. Instead of using pontoons to float on the liquid, Mesa ETP floating roof skimmers are attached to the roof to keep the intake-to-roof distance constant.

For more information about Mesa ETP floating roof skimmer systems, talk to a tank expert.
Features
Stainless pontoons
Stainless steel pontoons ensure proper flotation of entire assembly. All oil skimmer components are designed to pass through a 20" or 24" manway
Vortex Breaker
Intake fitting is equipped with a stainless steel vortex breaker to induce optimum flow
ANSI raised face flanges
Floating 150 lb. ANSI raised face flanges and nylon coated steel fittings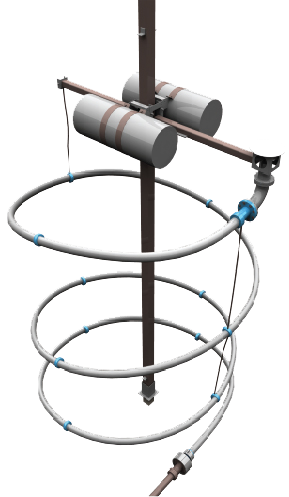 Flexible pipe
Flexible pipe has a negative buoyancy in all storage products, including light chemicals and heavy crude oil
Shell nozzle
Shell nozzle and/or sump nozzle spool piece can be straight sections of piping for roof drain service temperatures below 32°F (0°C)
Tether System
Mesa ETP Pontoon Skimmers with RESIST-ALL-CLAD® utilize a multiple-coil design to provide a fully preformed, controlled and repetitive lay pattern that does not slide on the tank floor. The tether system ensures that the coils will not stray from designed installation pattern.
Talk to a Tank Expert
More Information
SMOOTH INTERNAL FLUIDWAY
RESIST-ALL-CLAD® features a smooth internal fluidway offering fast flow rates and efficient drainage. It does not include internal corrugation, which could trap sediment or cause flow restricting turbulence.